Location
The Hollinwood Canal system is just east of Manchester.
The Hollinwood Branch Canal left the main line of the Ashton Canal at Fairfield Junction in Droylsden (about 4 miles east of Manchester). It ran north-east to Daisy Nook Country Park, where it crossed the River Medlock and continued roughly north-westwards to Hollinwood. From here, the canal continued northwards in the direction of Chadderton. It met tramroads that brought coal from the mines to the south and west of Oldham.
The Fairbottom Branch Canal left the Hollinwood Branch at Daisy Nook and ran eastward to Bardsley and Fairbottom, where a tramroad brought coal from Park Bridge.
The 1792 proposed link to the Rochdale Canal would have been around half a mile long with 3 locks.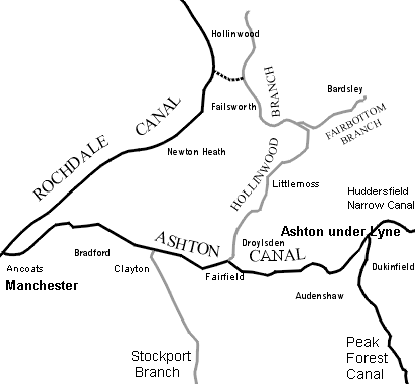 The Hollinwood Branch Canal in relation to
other canals east of Manchester

View Larger Map
Car Park for Daisy Nook Country Park, for viewing the
best remaining structures of the canal
Visitors to the canal will find the best remaining structures on the canal are within Daisy Nook Country Park, between Ashton and Oldham.
The car park and John Howarth Countryside Centre are situated off Stannybrook Road, near its junction with Newmarket Road.