Metrolink Extension, 2009
A new footbridge has been constructed over the line of the canal!
The footbridge is alongside Manchester Road, Droylsden, only a few yards from the Droylsden Wharf basin at the end of the short section of canal re-opened in 2008.
The new bridge is parallel with the road bridge across the infilled line of the canal, and is part of the preparation for the construction of the Metrolink tram line for Greater Manchester Passenger Transport Executive.
It was known that the road over the existing Manchester Road Bridge needed to be widened in order to accommodate the tram tracks. This had been a cause of concern for the Hollinwood Canal Society as there was the risk that the canal line might be obstructed.
However, Tameside Council engineers insisted that the Metrolink construction would not obstruct future restoration. The solution that was chosen was to widen the road by making use of the broad footpath on one side of the road. The footbridge has been constructed parallel to the road bridge in order to carry the replacement footway. Tameside Council engineers had specified that the new footbridge should have at least the same headroom as the existing road bridge
The Hollinwood Canal Society is delighted with this solution and commend the far-sightedness of GMPTE and of Tameside Council for ensuring that the Metrolink works have not created an additional obstacle to the restoration of the canal.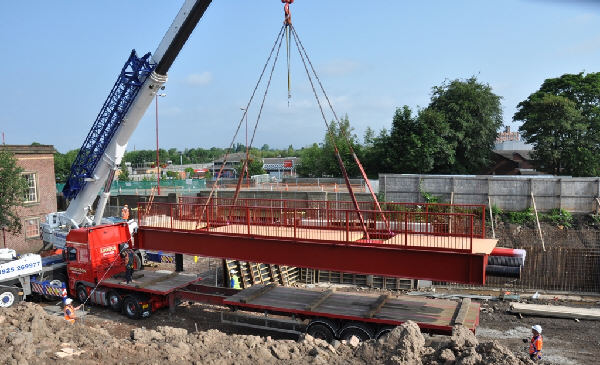 The footbridge is lifted from the trombone trailer. (Photo: GMPTE)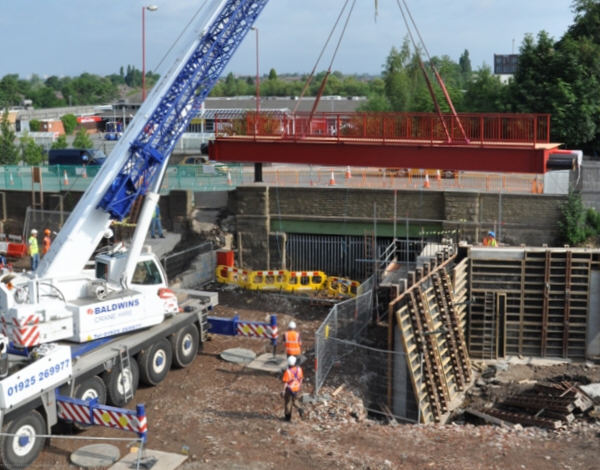 The footbridge is swung into position in front of the road bridge over the canal line. (Photo: GMPTE)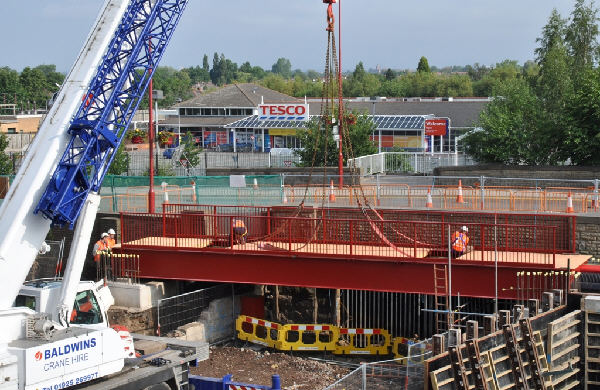 The footbridge in place in front of the road bridge over the canal line. (Photo: GMPTE)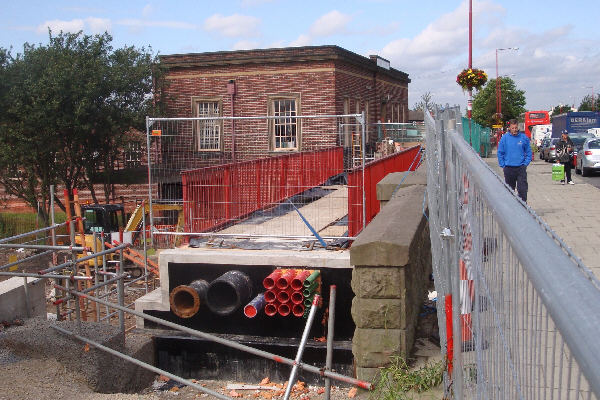 The footbridge in place in front of the road bridge over the canal line, showing the service conduits built into the deck. (Photo: Hollinwood Canal Society)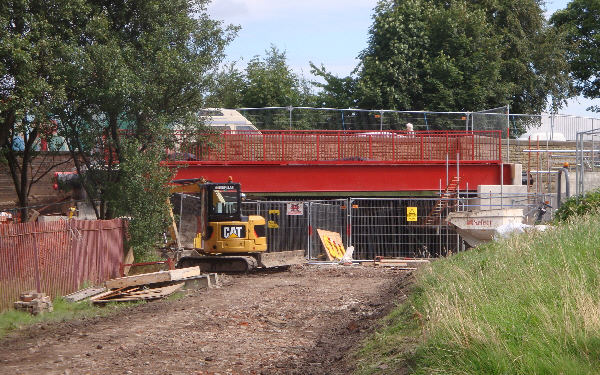 The footbridge in place in front of the road bridge over the canal line, seen from the new canal basin. (Photo: Hollinwood Canal Society)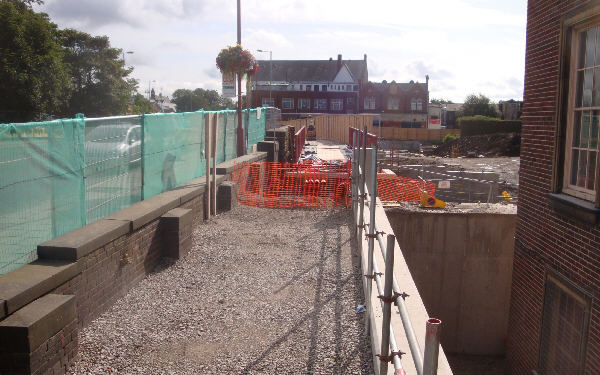 The footbridge seen from the front of Droylsden Library. (Photo: Hollinwood Canal Society)
Back to: Previous Page - Boats Mooring at Droylsden Marina